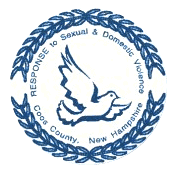 Volunteering for RESPONSE

RESPONSE to Sexual and Domestic Violence is a program of Coös County Family Health Services. We provide ongoing support to families who are experiencing domestic and sexual abuse and their family/friends, programs to increase community awareness around these issues, and educational programs for elementary, middle, high and post-secondary schools. RESPONSE has been advocating for healthy families since its beginning in 1978.
RESPONSE believes that everyone has the right to live without being abused. Our first goal is to provide time, space, information and emotional support so that each person is empowered to make choices as to how he or she wants to live. Our second goal is to promote community awareness of the social problems of sexual and domestic violence.
RESPONSE is first and foremost a volunteer organization. Its structure is designed to provide all volunteers with training and resources to enable them to work toward these two goals.
Our mission is based on the firm belief that these goals can only be accomplished through mutual cooperation and respect, not only within our program, but also within our community.
What do volunteers do at response?
Education and Outreach

 

– supporting the work of RESPONSE through public speaking, school programs, distributing posters and pamphlets or helping with community awareness projects. (Qualified volunteer training NOT required)
Committee work

 

– helping with volunteer support, newsletter writing, fund raising. (Qualified volunteer training NOT required)
For the following, qualified volunteer training (See below) is required:
Crisis line advocacy

 

– providing crisis intervention, information, and referrals on our 24 hour crisis line from their home.
Court advocacy

 

– providing information and support as victims seek relief through the justice system.
Shelter advocacy

 

– providing support to the families staying at our shelter.
Hospital advocacy

 

– providing support and information to victims and/or their family or friends at the hospital.
Support group facilitator

 

– co-leads support groups for survivors.
Children's advocacy

 

– supporting children who have witnessed abuse.
Direct services advocacy

 

– providing direct services to victims.
Office support

 

– helps with mailings, photocopying, data entry, and typing.
What do I have to do to become a qualified volunteer?
New Hampshire law states that qualified volunteers can provide privileged communication for survivors of domestic and/or sexual abuse. In order to comply with this law (RSA 173-C) volunteers must complete a minimum of thirty hours of training, twenty hours in-person training and ten hours home based computer training. Training is offered in the spring and fall of each year.
Additional opportunities for skills building through conferences and in-services are offered throughout the year. (Note: 6 hours per year of on-going training is required to maintain Qualified Volunteer status)
How much time should I expect to spend as a volunteer?
Once the training is completed, it is really up to you how many hours you would like to spend. Most volunteers cover the crisis line twice a month. Others help with support groups, shelter, office support, fundraising, or education and outreach. Mileage reimbursement is available for volunteers.